ESTABLISHED SEPTEMBER 2005.
Welcome - I hope you enjoy viewing my work. I modify most of my figure kits so that they wind up quite different from the original. (And there is a lot more here than just dinosaurs - so browse on!) I re-discovered the joy of art in mid-life and its been a joy to create and share my vision with others. Art, like all creative gifts, exists to be shared so as to enrich the lives of others.
So this website is my gift to you. If you have an interest in art/sculpting/modeling of all kinds of subjects, I would recommend that you check out the Internet Figure Modeling Clubhouse at
INTERNET CLUBHOUSE and also see
At both sites you will find incredible artists and sculptors, some nationally known. Their work will leave you in awe.
Thank you for stopping by!
NAVIGATION INSTRUCTIONS: THE GALLERY PAGE LINKS ARE THE SMALL NUMBERS ON THE LEFT, JUST ABOVE THE INDEX PHOTOS. TO ENLARGE PHOTOS, CLICK ON THE THUMBNAIL, THEN CLICK ON THE ENLARGED PHOTO IN THE LOWER RIGHT-HAND CORNER OF THIS PAGE AND FOLLOW THE DIRECTIONS.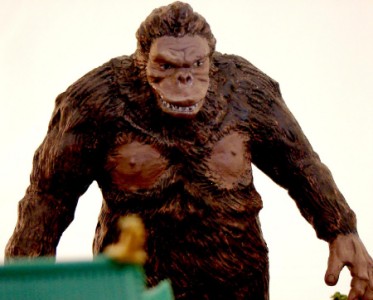 Eiji Tsuburaya Custom Tribute
Kong was made from a YMS-F Toys vinyl 1962 Toho Kong figure released just last year. By a terrific stroke of luck it came in the same scale as the resin Tsuburaya & Godzilla figures - this Kong suit has not been reproduced very often as a kit or as a toy.
In order to make Kong match Godzilla in height, I did have to 'extend' him by one inch by connecting his stomach and legs with wires and then filling the gap with putty, then detailing it to match the fur pattern. The arms were puttied and the shoulders 'bulked up' with putty to make him look larger.